Natural healing massage therapy
to relax and unwind tired muscles and minds
Reiki is a very simple but powerful natural healing technique involving the laying of hands it is easily given and received by everyone, all can benefit from the relaxing and re-energising effect of this gentle therapy. Reiki is a system of hands-on therapy that works to harmonise and balance well-being. physically. emotionally, psychologically and spiritually, which in-turn promotes the body's own natural healing process.
Full Reiki Treatment
£48.00 – allow 60 mins
Mini Session
£25.00 – 30 min session – ideal to complement other treatments.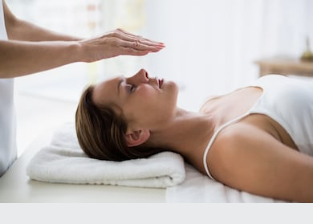 Healing massage therapy using a blend of essential plant oils, which have a positive effect on the blood circulation. Oils enter and leave the body leaving no toxins behind, regulating and healing along the way. Specific oils can be chosen for their mental or physical effect, personalising each treatment.
Aromatherapy full body massage also includes facial, scalp and hair
£75.00 – 1 hour 30 mins
Aromatherapy back shoulder massage including scalp and hair
£40.00 – 45 mins
Aromatherapy Sinus Drainage Facial includes shoulders neck face scalp and hair (Perfect for those who suffer with hay fever, sinusitis or recurring virus infections.)
£45.00 – 45 mins
A wonderful relaxing massage to the upper back, shoulders, neck, scalp and face which helps to reduce stresses strains and toxins from your system. Clients sit in an upright position wearing comfortable clothing. Ideal for sufferers of stress, tension, headaches, migraine, sinus and lymph are encouraged to drain during this massage.
£40.00 – 45 mins
This treatment gives a truly physical application while leaving you with a feeling of tranquillity, relaxing the body to its deepest level. Using a combination of Swedish massage techniques, aromatherapy blended oil, placing and massage, using heated basalt stones. This treatment gives a deep tissue massage which can identify problem areas. Benefits overworked muscles the heat promotes deep relaxation a perfect treatment to unwind, mind, body and spirit.
Full body including face & scalp
£60.00 – 90 mins
Back shoulder massage
£35.00 – 30 mins
I use pure coconut oil for hot stone massage.
Hopi Ear Candle Treatment
A great treatment for troubled ears wonderful for clearing ear wax, draining blocked sinus, aides recovery or symptoms glue ear, colds, hay fever, tinnitus, headaches migraine, snoring, Labyrinthitis, loss or reduction in smell, as well as many other benefits.
Hopi Treatment of both ears including a sinus drainage massage
£35.00 – 45 min
Lymphatic Drainage Massage
The Lymphatic system is responsible for the production of antibodies for the immune system, this massage technique improves the environment boosting resistance to infection, aiding recovery from cell and tissue damage. Lymphatic drainage massage is ideal for combating fluid retention as it can reduce waste, water and poisons trapped in the skins cells, encouraging a full body detox.
Slow steady rhythmic movements promote relaxation, in turn the blood and lymph vessels are stimulated and waste production is increased resulting in the drainage of excess fluid. Lymph drainage massage is ideal to help reduce fluid retention by aiding the removal of excess water trapped in the tissue.
Lymphatic drainage massage can be a benefit to people who suffer from: Acne, rosacea, congested skin, eczema, allergies, cellulite, fluid retention, swollen ankles, fatigued legs, migraine, sinusitis, premenstrual symptoms.
Full body lymphatic drainage massage
£55.00 – 1 hour
Stress Buster Relaxing Back, neck and scalp including hot oil facial- See Facials